If It Were Easy, Everyone Would Do It
https://thelovelightproject.com/wp-content/themes/osmosis/images/empty/thumbnail.jpg
150
150
lovelight
lovelight
https://secure.gravatar.com/avatar/eb60c2d79d4d740a86a4d6903b134c41?s=96&d=mm&r=g
My friend in the States yesterday congratulated me for living a dream, and it was a good reminder that indeed, what I've got going on these days is really cool and different.
Because, as my boyfriend and I build out a tiny home on wheels, it's a struggle some days – the days when construction is waaaayyy over our inexperienced and unskilled heads. Those days are so frustrating, because we are reminded of our ignorance. There's so much to learn in the world, and the only way to do it is to experience as much as possible.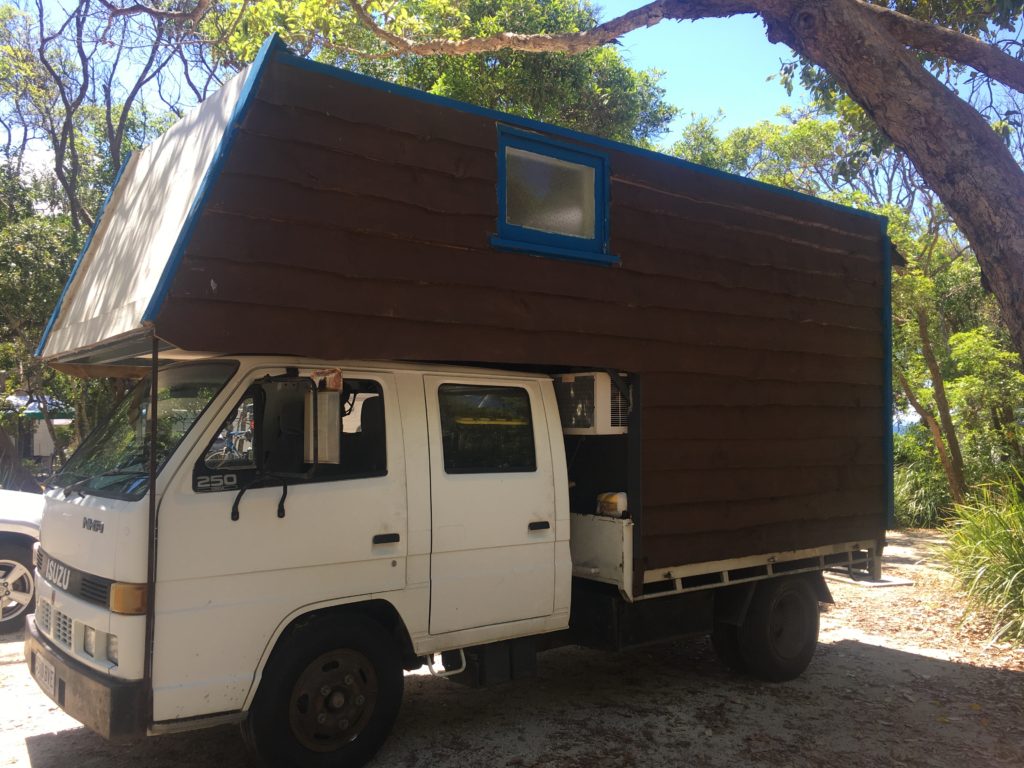 So, with that general motto, I took my new guy's offer to travel around Australia with him in his tiny home on wheels. I had seen pictures and heard about "Fun Gus, the Magical Mushroom Bus," from which Aaron based his business holding mushroom-growing workshops. It looked awesome, like a gypsy caravan. 
I had a few reasons for immediately saying yes, in no particular order: 1) My visa was up in Bali soon, and I wasn't sure where I wanted to go next. 2) I've been looking at housesitting gigs throughout Australia, but as you likely know, it's a big country. I couldn't quite figure out where I really would fit in. Traveling around was a great option. 3) Of course, it didn't exactly matter where I went, since I work remotely. 4) I figured, really, how different could it be from living on a sailboat? 5) Duh! I'm in love!
After an epic journey across the Nullarbor, Aaron and I flew to the Gold Coast, where I was introduced to Fun Gus.
"I hope you're not disappointed," Aaron told me. "There's a lot of work to do."
Anyone who knows me knows that I don't shy from a challenge, so I had a big ole grin on my face when I first saw the tiny home on wheels. The construction itself is really a category of its own. We're kind of #vanlife, but not really because Fun Gus is absolutely not a van. We're also sort of #tinyhome, but we are completely mobile.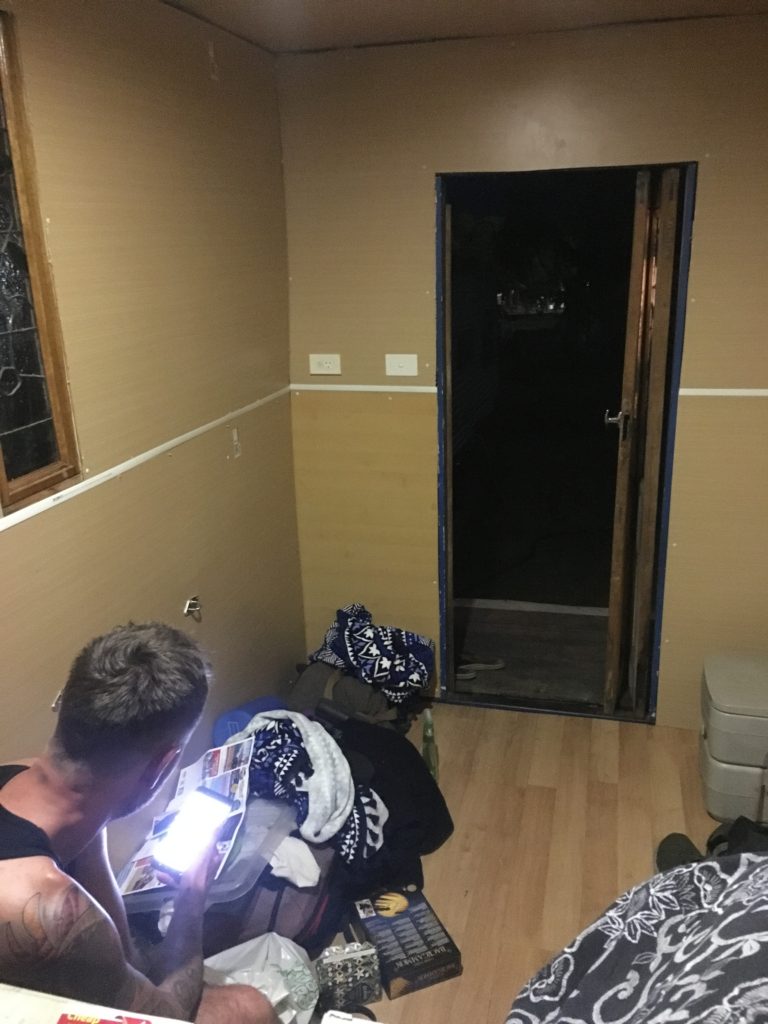 It's a commercial tipper truck with a steel frame installed on the back. The previous owner documented his impressive work on his YouTube channel, Embrace the Chaos. He built the outside with hardwood planks and welded an extra-strong steel frame that fits nicely on the truck. I was super-impressed that Aaron decided to buy it when he saw it for sale on the side of the road. The original plan for the couple who owned it was to travel around the country giving naturopathic treatments and tarot card readings. But, before they could really take off, both of them got great gigs in town. So Fun Gus was just sitting there, waiting.
When Aaron pulled up to me outside the Gold Coast airport, after retrieving Fun Gus from the parking lot, I jumped in smiling. Aaron wasn't: His associate who dropped off the vehicle for him had spilled some white lime powder all over the cab. It was a mess. The truck was super-dirty. (At 3.5 meters tall, it doesn't fit in the stalls of car washes.) And the back, where we were supposed to live … well, it was an insulated warehouse with a metal ladder leading up to a mattress. I was still smiling. I like smiling.
In my Gratitude Journal that day, I wrote that I was thankful for: "Fun Gus, it's a big project but we'll make it great in no time." That was on November 27th. Five weeks later, we have to admit, we did a fantastic job. But it wasn't easy.
First, we had to do interior design work, trying to figure out how to build a home in the 1.9 x 5.4-meter (6.2 x 17.7 ft) warehouse. Luckily, Fun Gus has great bones. There is a loft over the cab that's big enough for a comfy queen-sized mattress and storage. There are two opaque windows in the loft, and down in the main room (as it were), there is a lovely stain glass window. There is a back porch, where you enter via stairs through a quite handsome stain glass accordion door that the original owner salvaged from an old hippie bus that was rotting in a lot nearby his home.
The door has peacocks on it, and it made me remember in 2001 when I was a young newspaper reporter. I wrote so many stories about some old lady who wanted to kill the wild peacocks that Frances Langford, a Hollywood starlet had brought there when she retired nearby in 1945. My editor figured out that I wrote more consecutive front-page articles on peacocks than the newspaper had published on the first Gulf War. Plus, peacocks hang out near Krishna. I felt right at home!
Right at home. In the warehouse. The dirty warehouse.
Keep in mind, Aaron teaches people how to grow mushrooms professionally. I'm a writer, marketing consultant, yoga teacher, energy worker and life coach. We don't exactly know how to build houses, let alone tiny ones. He once worked a job installing floors. I did some jobs as a painter, and I interned at This Old House Magazine. (Part of the job was replying to emails addressed to Bob Vila, which was hilarious because I was a 19-year-old kid living in New York City at the time.)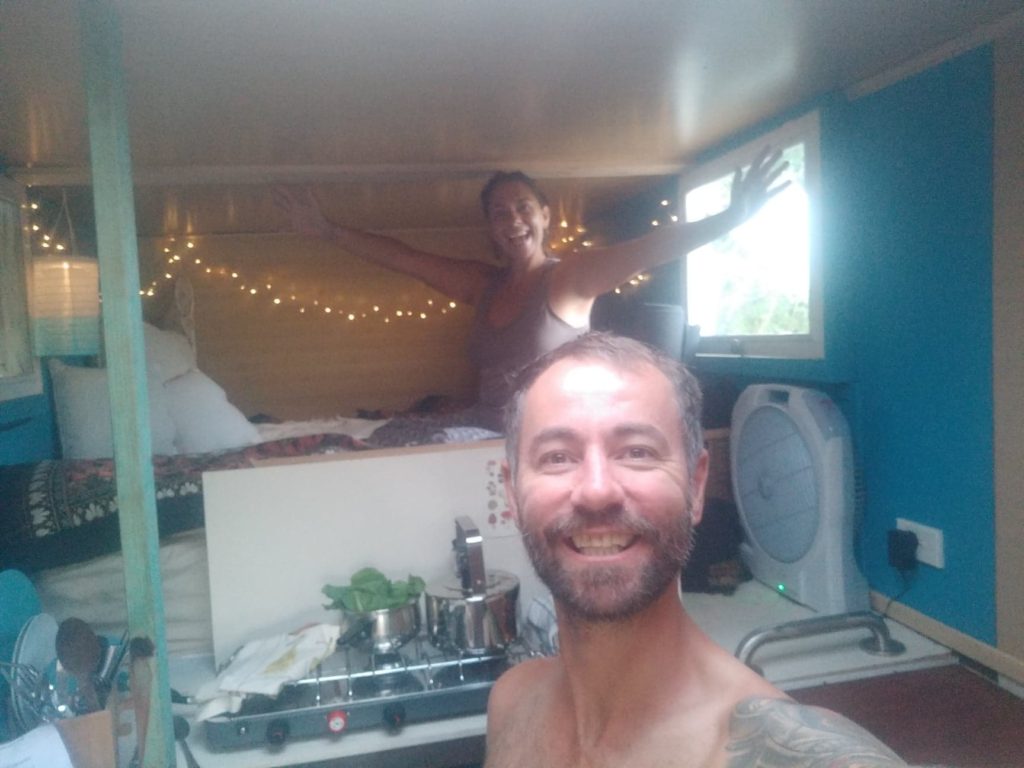 And yet, in this time, we did electrical work, plumbing, carpentry, painting and staining, propane instillation, interior design and interior decoration. Oh, and Aaron bought a scooter that sits on a rack we installed (after we found a mechanic to remove the old ball hitch … we couldn't do it all without a professional!). We had to learn the hard way a few times. Aaron banged his finger on a fast-closing ladder (nothing broken!). We butted heads. We apologized. We kept at it.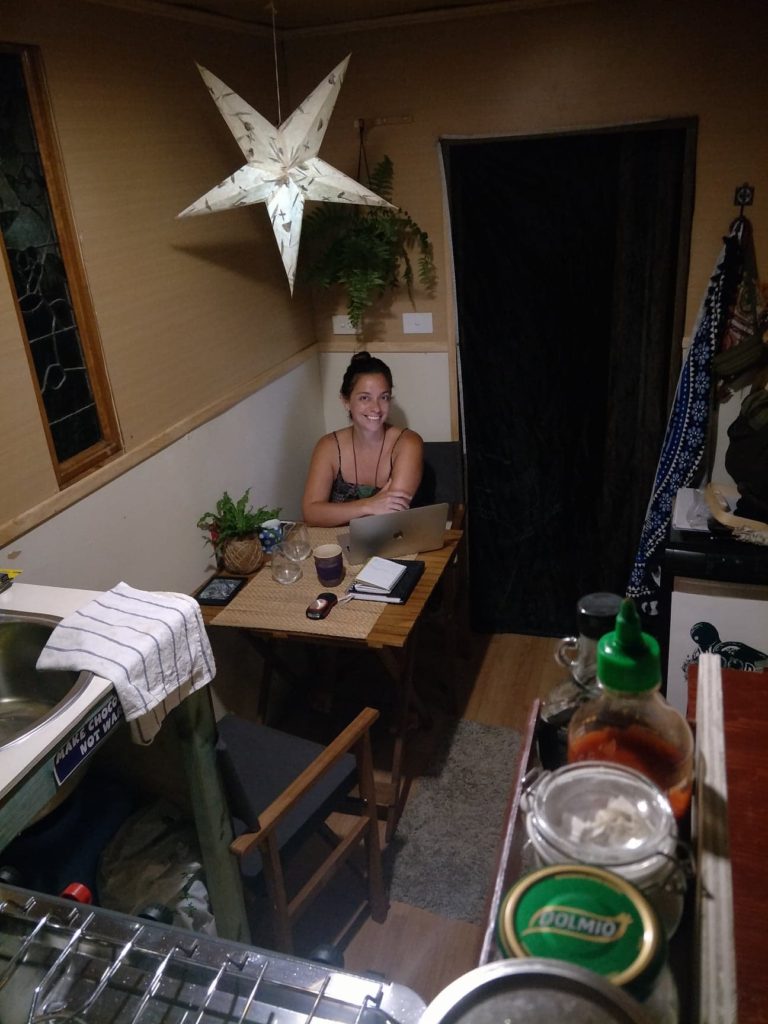 Fast-forward five weeks, and I am sitting at my computer at a table on a comfortable director's style chair inside. There are stairs (Aaron scored big time by finding a small, stair-shaped bookcase in a random store – honestly, we were disagreeing over one of the million decisions we had to make during this project, and I went to a café to work). Those stairs lead up to a final big stair that we built. It's a timber frame that holds a refrigerator and has a hinged top that hides a power center, where we can charge everything we could ever want with the benefit of two new solar panels charging away in the Aussie sunshine. In the loft, there are baskets to organize our clothing, fairy lights, a dreamcatcher, throw pillows and cute ceramic knobs on the patched screens. Next to the refrigerator, there is a kitchen backsplash with two spice racks and a three-burner stove that runs on a propane bottle that's attached outside in a space next to the spare tire in between the cab and the living area.
Next to the stove, there's a spot where we can store plates and utensils without them breaking, underneath two storage shelves. Turn a little more, and you're at the kitchen sink, which we installed today along with a modern-looking tap. I can reach everything in the kitchen because there is a step, which doubles as a storage area for the invertor and recycling, that we built. The walls are either painted or have a faux wood panel, which we edged in natural wood finishing pieces.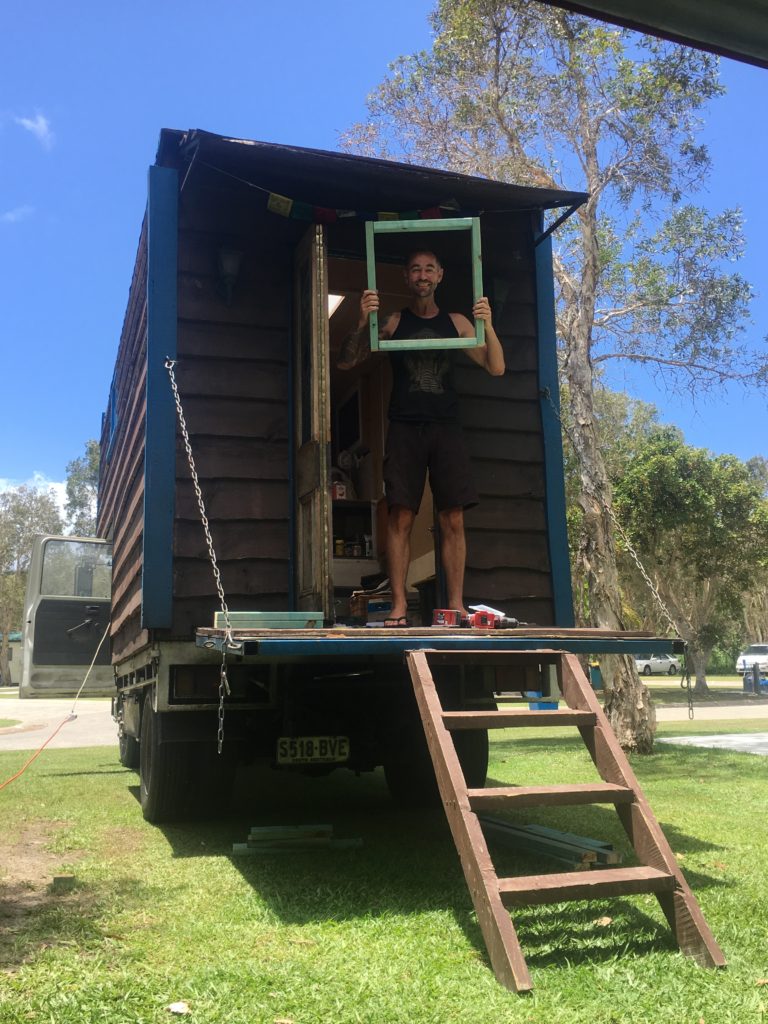 Outside, the porch is reinforced, there's a mosquito screen that lets us keep that lovely (and also reinforced) door open. The truck's cab, too, is now a good-vibes space. We cleaned it numerous times to get the powder out, and I glued pieces of an off-white carpet over a weird, black glue spill on the dash. I Blue-Tacked on a small alter, which currently features a small Confucius, which I found in a thrift shop in Taiwan, a little laughing Buddha that a store owner gave me when buying the storage baskets, and a green frog doing yoga. Oh, and some dried flowers from the alter at the Krishna Village ashram and an admission band to the Woodford Folk Festival, two places we had fun while working on Fun Gus these last five weeks. I hung some shells and beads from the rear-view mirror, Tacked-on a speaker for tunes and added a few sticks of Nag Champa incense.
Fun Gus is all gussied up! But it's true, it wasn't easy. If it were easy, then everyone would be driving around and living in tiny homes on wheels. Right?