It's been a pretty heady few days at Newkind Festival, so I was excited to take my friends up on the offer to walk together down to the Marion Bay beach after yoga and breakfast. I felt a little like I was playing hooky from class, missing out on a morning speaker and the first sessions of the day, but then, isn't everything a class?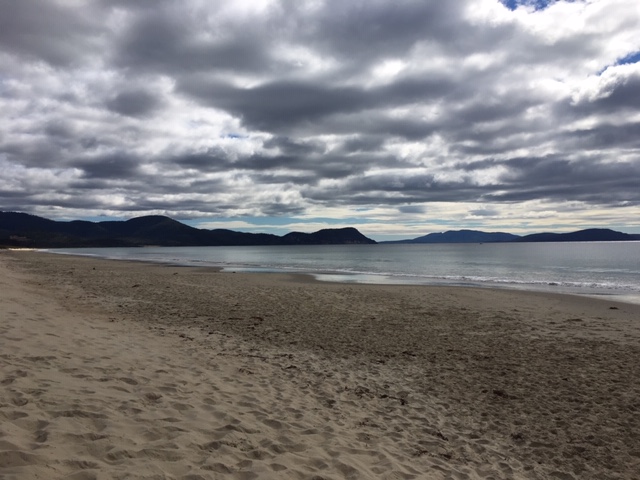 The walk down to the beach took about 20 minutes. After leaving the campground, we meandered down a dirt road and then turned left to cross a field of ankle-high wild grass. Slipping through the fence, we crossed a muddy patch and crossed a small, wooden bridge. Our walk continued as we crossed a slightly bigger river, admired small succulent ground cover plants, saw a mysterious animal skull with big fangs and then, after climbing a small dune, arrived at the ocean. The musical sands squeaked under foot as I stripped to my bathing suit and ran wildly into the frigid ocean. It was refreshing, to say the least!
Back on the beach, I let the sun warm my back and learned more about some of the activism work my friends did. Liz, while living in Hobart, travels to Ecuador to help the indigenous people there fight the destruction of the rainforest caused by Australian mining companies. She's connected with people she's met there, and they message each other frequently. She talked about the challenges she had both working with people from a different culture as well as the obstacles she faced working with people in her own town. She talked about finding connection with others, and how sometimes it's easier to do so with people who did not share her culture. Indeed, I relate: Just because someone is an American doesn't mean that we share the same ethos. That may sound obvious, but it's an eye-opening moment when you realize how much you share with someone who, otherwise, seems completely different than you.
Liz is an inspiration, but the thing that's special about this festival is that she is one of nearly 500 inspirational people. Everyone that I sit next to at dinner, stand in line with for the toilet, wait with while my green tea brews or share a bench at a lecture is doing interesting work. They don't have to be anywhere near the microphone for me to learn something from them.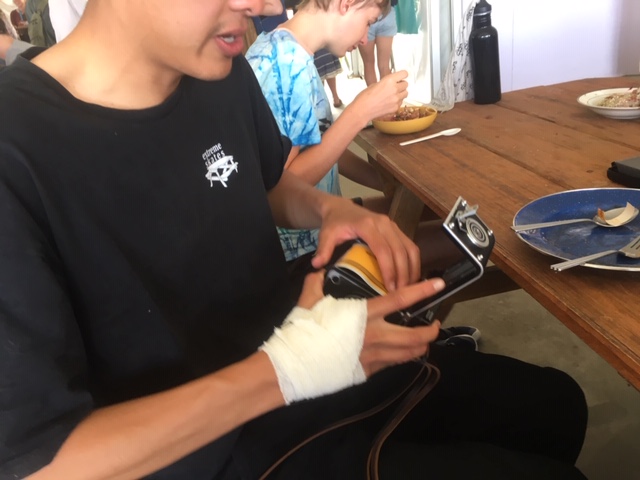 Take Delong. He is a photographer who is also on the media team with me at Newkind. I was interested in his work because it's so different. He uses an old-fashioned Box Brownie camera and shoots with black and white film, and I've watched him document workshops I've attended. He lines up the shot and sits with the frame for a minute before shooting. He doesn't have the luxury of the constant digital, spaghetti-against-the-wall clicking. He values quality over quantity. He values things that take time. 
It was interesting to learn about his craft and his life today. He lives in the small town of Esk, Queensland and helps his parents run their Thai restaurant. This conference has inspired him to work with other restaurants in his friendly community to limit food waste. He's considering starting a community garden with the compost.
Then I met Amy. She received a scholarship to Newkind for starting what became 44 Facebook local groups called the Good Karma Effect. When her cat went on an extended walkabout years ago, she realized how much her neighbors cared and wanted to help. She didn't think it was just her neighbors, but that everyone wanted to help. So, she created a group on Facebook that allowed people to ask for help and receive it, for free. Now, she shared with me, she was making plans to launch a new website to connect like-minded, caring individuals from throughout the globe who want to help one another. She was interested in inspiring others to start their own project, just like she did.
Liz, Delong and Amy aren't presenting at the conference, but they taught me about how simple it is for one person to make a difference. Activist Aidan Rickets took to the stage right before dinner and reiterated what I was learning: Connection is the key to success.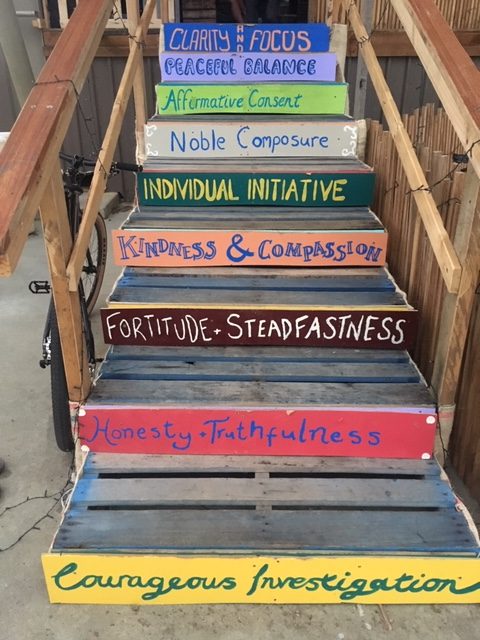 "Real resilience is connection. If we connect into our communities and to our planet, and connect out to our universe, we will find that Gaia will survive," he said. "We are the same as the universe. What is inside this bag of skin is the same as what is out in the universe. We are able to face our fears."
Aidan talked about how we must accept the way that things are in the world – no matter how much you don't like it – so that you do not succumb to anger and make your own body the battleground. Only then can you find a resourceful way to move forward. I understand this. I suffered from what can only be called a clinical depression when Trump was elected and America began its years of moving toward fascism. At the time, I was in a loveless relationship, and I was not speaking to my brother after a nasty confrontation. I did not fit into my relationship. I did not fit into my family. I did not fit into my country. I was paralyzed and lost. 
It took a lot of self-work over the next two years to get to where I am now. I've been facing inward as I wrapped my arms around myself. I did help others, in my way: I taught yoga, helped people get unstuck through life coaching work and modeled behavior that I wished to see in the world. This week, I've been blessed and buoyed with the hope that, perhaps now, I can start to give back on a larger scale, just like my new friends are doing. I am impressed by the people I am meeting, even more so than the people who are presenting panels on positive messaging, entrepreneurialism and direct-action activism. I'm not just impressed … I'm inspired.