I arrived in Tokyo right in time to enjoy the last week of the cherry blossoms blooms. I took a walk down to a beautiful park near my apartment and was taken aback. Clouds of white and pink petals floated on the branches overhead and rained down like snow from the gentle, cool springtime breeze. I wasn't the only one standing there mesmerized, either. Everyone in the park was looking up in awe. Appreciating the beauty of flowers in Japan even has a term – hanami – that's been around since the 700's. It was perfectly normal to take time out of your day to look up at the sakura blossoms and simply admire.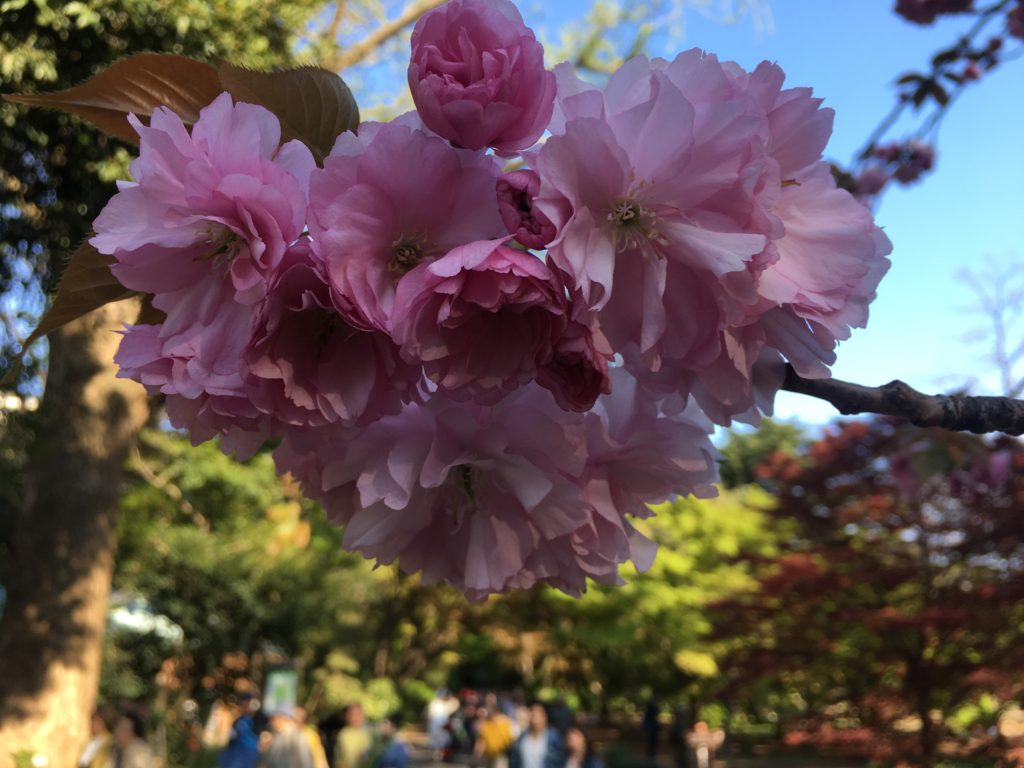 And like all good things, the blooms soon past. A couple solidly rainy days, during which I stayed inside as if it were a snowy blizzard, put an end to it all rather abruptly. Since the timing for my visit was due more to the end of a visa and a relationship, I felt immensely blessed to have been given the gift of this ephemeral beauty. I needed to heal after months of someone taking his own pain and anger out on me. Tokyo reminded me that life is beautiful – even if that beauty comes and goes. 
And just like the love of that relationship, the blossoms died and were swept into the gutters. Yet, I noticed something else. As my physical and emotional detox proceeded, I found myself jogging through the streets and becoming overwhelmed by fragrance. White jasmine bushes cascaded down walls. Red roses reached hopefully from the tops of patios. Nearly every home in my neighborhood, it seemed, offered a rainbow of colors and fragrances that brought a smile to my face. With each bit of aroma, my wandering mind would race to the present moment. And this moment in time, was, indeed, a present.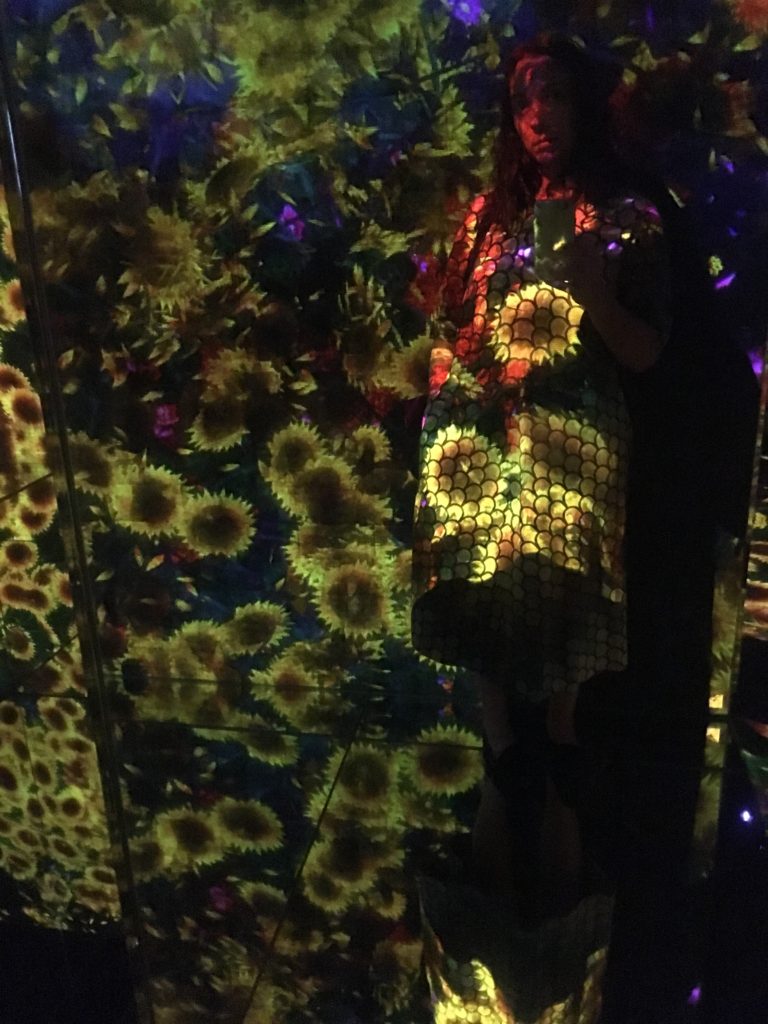 Paintings of flowers filled the walls of the art museums I visited. One exhibit, called teamLab Borderless, projected digital displays of flowers all over the walls, floors and ceilings, so that you were actually walking through fields of petals that danced all around you. With each delight of the eye and generous sniff of my nose, I was beginning to understand how the beauty and art of life is worth appreciating only because sometimes it's just not there.
But when your world is filled with this sweet, natural goodness, well – rejoice! This morning, I couldn't help but purchase a small pot of pretty purple "pink kisses" carnations for a new friend who invited me to her vegan cooking class. I had been looking for vegan cooking classes since I arrived, after a dear friend suggested it, but all I could find were, oddly foreshadowing, Indian. But Rina, of BentoYa Cooking, was offering a lesson in making vegan ramen and gyoza. I jumped at the chance!
First, she took us to the supermarket and talked about interesting vegan foods. Japanese markets are a lot like the markets in Korea – it's very hard to figure out what the heck you're buying. There's only so long you can stand there with your Google Translate camera before you are embarrassed by your own ignorance. In fact, there is an entire Facebook group in Korea dedicated to helping English speakers figure out what they're eating. So far, I had been eating almost entirely whole foods, which isn't exactly a bad thing. But to learn that the weird, soft, long white thing was actually pickled radish and not fish was pretty exciting.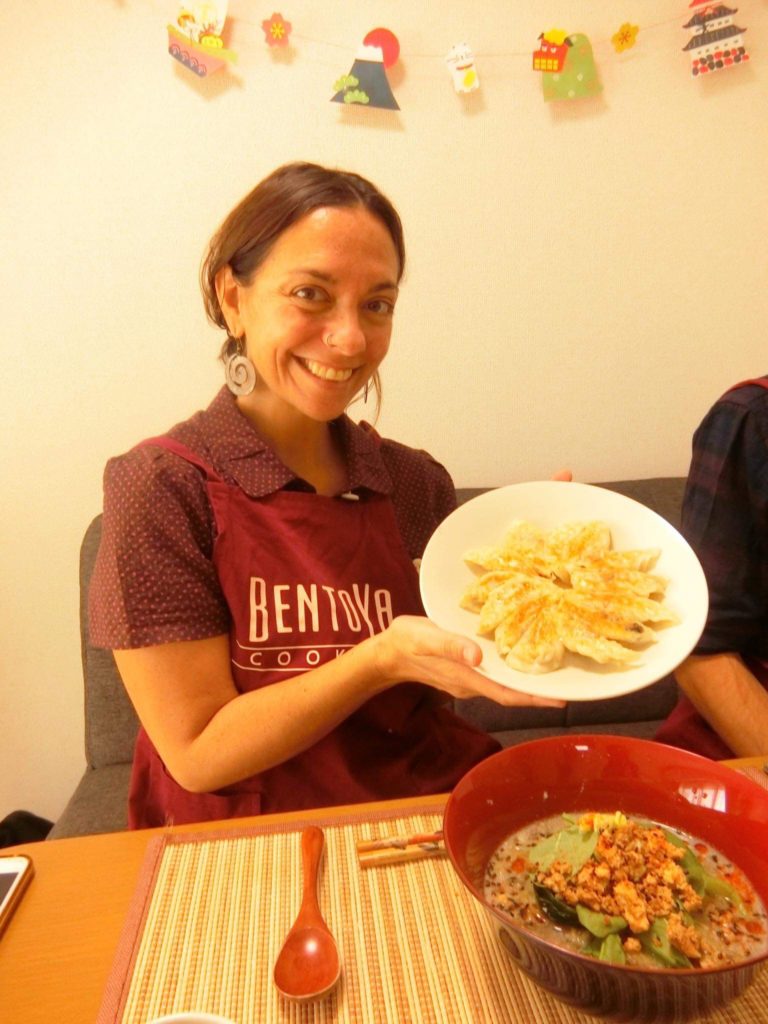 Back in Rina's kitchen, we learned how to prepare a simple Japanese broth of shitake, kombu kelp, salt and water, which serves as the basis for both ramen and miso. Then she taught us how to create the distinctive shell pattern of a stuffed gyoza, which is a fried or steamed dumpling. We cut up veggies for the ramen and cooked up some seasoned tofu, which we sprinkled over our yummy noodle soup with black sesame seeds and chili oil. Then she brought over the pan of gyoza for us to flip. They are fried in a circle, so you have to use chopsticks to skillfully break them apart to enjoy.
It was called – wait for it – a gyoza flower!
And so it goes. Whatever you look for in life, you will find. That one of the secrets of the universe. If you look for problems, misery and reasons to be anxious and unhappy, you will surely find them. But if you look for the art and beauty of everyday life – the gifts that are all around us, all the time – you will find those instead. When you're in a challenging situation, like I had been for months, it isn't easy to search for the blossoms and fragrances of the world. The key is training of the mind to focus on gratitude for the gifts that have already and are soon coming to you. 
When I came to Tokyo, I wasn't sure that the cherry blossoms would still be on the trees, as it was the end of a very short season – but they were. And now, in spring so lovely that I sold my coat, there seems to be nothing but flowers in my life. I finally have the space and time to complete projects that are important to me. I've been able to focus on my own physical and mental health, and I am planning for my future. I'm meeting new people who remind me of the power of my own high vibrations. I am connecting with old friends who help me as much as I've helped them.
I am so grateful for my friends because, really – aren't we all flowers? You know, I'm excited for your time to bloom, too.