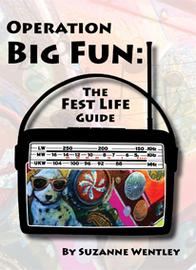 AVAILABLE NOW FROM AMAZON!
Click here to BUY NOW!
Operation Big Fun: The Fest Life Guide by Suzanne Wentley
For newbs, wooks and everyone in between, we present Operation Big Fun: The Fest Life Guide.
It's more than a practical how-to guide for navigating a reader's first or 50th live music festival. This part-memoir, part-documentary is filled with pictures and engaging stories that shine a loving light on the wonderful world and sub-culture of the recent music concert festival scene. Learn everything – cultivated from more than a decade of fests – needed to maximize good times and good vibes for one of the most special weekends of your life.
In Operation Big Fun: The Fest Life Guide, you'll get 200+ pages filled with everything you'll need for a great weekend, minus the ticket. Inside, you'll find:
A 25-page glossary of insider terms (hyperlinked for easy referencing in the e-Book option)
Comprehensive packing checklists for food, clothing, camp essentials and toys
Best practices for common festival occurrences like using a disgusting Port-O-John, sharing a cooler with friends for the weekend and sneaking a beer past the security gate
Encouragement in your quest to live your best life: befriending fun-loving people, helping others and participating actively in the fun
Tall tales (and accompanying photographs) of adventuring around festivals, including engaging in every one from an undercover cop to a grown man in a glittery Oscar the Grouch costume.
If you're in on the joke, you're part of the framily. But if you're just thinking about checking out these amazing experiences for the first time (or care about someone who has and want to impart wise, loving advice), this light-hearted and helpful manual offers creative ideas to improve your festival experience. Enjoy more laughter, dancing and … don't forget the most important: live music. Hey, the show's about to begin – let's do this!